This quarterly newsletter has been created by Wayne RESA literacy consultants for literacy educators. In each issue, you will find Literacy Learning Network updates and information, statewide initiative updates, book synopses, teaching and coaching strategies, and upcoming professional learning opportunities. We look forward to partnering with you as we engage in best practices in literacy instruction for all students.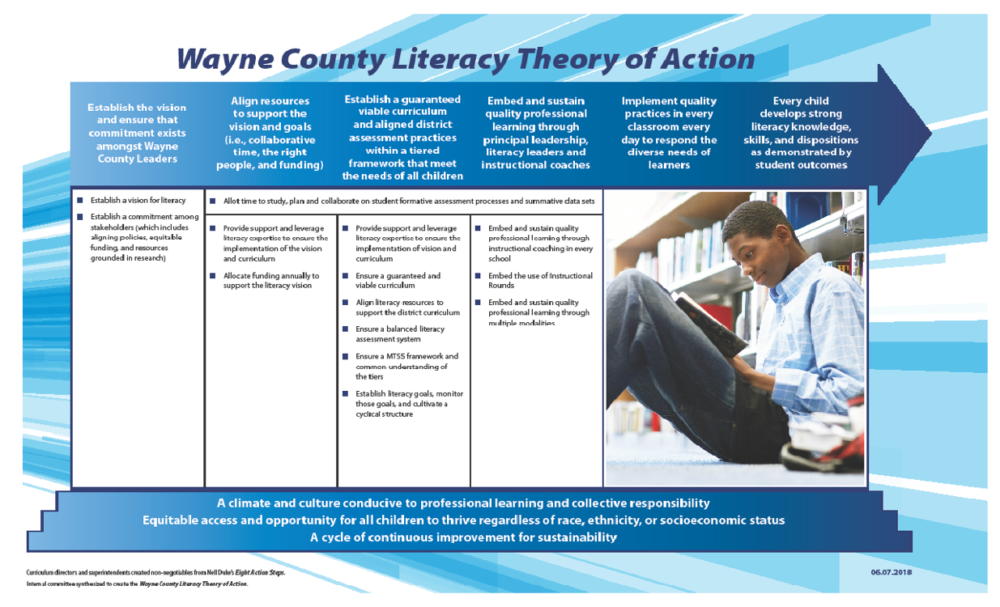 The Wayne County Literacy Learning Network has embraced statewide initiatives that seek to move our students "from lagging to leading." As such, beginning in the Fall of 2020, Michigan will implement the Kindergarten Readiness Assessment statewide, with Wayne-Oakland-Macomb and the Upper Peninsula being the last areas to implement. The Kindergarten Readiness Assessment/Michigan Kindergarten Entry Observation is a developmentally appropriate assessment designed to measure school readiness of incoming kindergartners across four domains. It is a research-based, valid and reliable assessment developed by Johns Hopkins University and WestEd in partnership with the Departments of Education in Maryland and Ohio. The KRA will be required for all incoming kindergartners and those in Young 5s or developmental kindergarten programs. Wayne RESA is hosting overview sessions (December 12, March 18, and May 20) for districts to begin planning for the fall. More formal Training-of-Trainers and Data Managers will happen this summer. For additional information, contact Heather Rottermond.
In his October 30 press release, Martin Ackley reported four year gains in reading on the NAEP.  "Michigan rose to 32nd in the nation in fourth grade reading – up from 35th in 2017 and 41stin 2015. In eighth-grade reading, Michigan advanced to 28th in the nation – up from 30th in 2017 and 31st in 2015." The efforts of literacy educators throughout the state continues to benefit our students positively!
The Michigan Department of Education is seeking schools to participate in an M-STEP online Passage-based Writing Field Test from January 6–January 31, 2020. More information regarding the field test and how to register can be found on the Writing Skills Field Test flyer.
The Michigan Department of Education updated its Read by Grade 3 Guide to include new information about the MDE/CEPI retention letter and the M-STEP testing window for Spring 2020. Updates appear in italics. 
In collaboration with the Reading Now Network, west Michigan's area education service agencies are hosting the fourth annual West Michigan Early Literacy Leadership Symposium, featuring Huda Essa and Dr. Donyall D. Dickey. Participants will spend the day exploring ways to be culturally responsive in classrooms, schools and communities through literacy. Registration is open; the fee is $100.
The American Prospect magazine, in partnership with Omidyar Network, announces the first annual American Prospect Essay Contest. This competition will give high school students the opportunity to read and reflect on one of four renowned books exploring how the economy works in terms of poverty, race, markets, and democracy. The students' essays will explore where the economy falls short and what we might do about it. Prizes total $30,000. The deadline for submissions is March 31, 2020. For further information, go to Prospect.org/EssayContest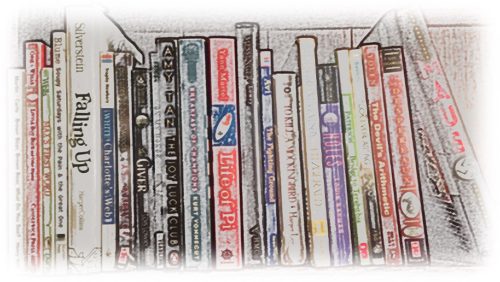 Igniting a Passion for Mathematics in Readers of All Ages
Infinity and Me
Kate Hosford and Gabi Swiatkowska
Inspired by conversations with her own sons, Hosford describes infinity from the main character's perspective, and Swiatkowska beautifully illustrates this young protagonist's thoughts about such an unfathomable concept. As Uma struggles to compare infinity to things that she understands, she finally concludes that her love for her grandmother is "as big as infinity." To assist teachers when using this book, Hosford has created a curriculum guide complete with before reading activities, discussion questions, and after reading activities that include journaling, creating an infinity symbol, and more. 
Sir Cumference Book Series
Cindy Neuschwander and Wayne Geehan
For the past ten years, Neuschwander and Geehan have teamed up to tell the stories of Sir Cumference, who is accompanied by characters such as his son Radius and his wife Lady Di of Ameter. Amid puns and a medieval theme, each story requires the characters to solve a problem using math. With titles such as Sir Cumference and the Sword in the Cone and Sir Cumference and the Fraction Faire, readers are exposed to math concepts in a fun and engaging way.

The Miscalculations of Lightning Girl
Stacy McAnulty
Endearing Lucy Callahan is the main character of this bittersweet story. As a young child, she is struck by lightning and her family later discovers that she has Acquired Savant Syndrome. She is a math genius. Although she has been homeschooled throughout elementary school and has achieved a perfect score on the SAT, her Nana decides to enroll her in middle school. There, Lucy struggles with her OCD behaviors, making friends, and concealing her math aptitude. A required seventh grade community project leads Lucy to a local dog shelter with group members Windy and Levi. Amid the normal preteen trials and tribulations, the trio's efforts result in the adoptions of several dogs, their friendship grows, and Lucy discovers that her expertise is nothing to hide. 
Navigating Early
Clare Vanderpool
In this lovely coming of age story, we meet young Jack Baker who, upon the unexpected death of his mother, is forced to leave Kansas for a military boarding school in Maine. As he struggles to acclimate to his new setting, he meets Auden Early, an autistic classmate who sees the number Pi as character in an adventure story. Set in the 1940s, a subplot regarding the infinite nature of pi arises as mathematicians around the world begin to challenge the calculations. Determined to prove that Pi is alive, Auden ventures to the Appalachian Trail, taking Jack along with him. As they connect with odd and sometimes dangerous characters and circumstances, their journey of discovery parallels Pi's, and Auden is able to prove that Pi, both the character and the number, is alive and well.
5 Practices for Orchestrating Productive Mathematics Discussions
Margaret S. Smith and Mary K. Stein
In the introduction to this text, Smith and Stein insist that productive classroom discussions are essential because "complex knowledge and skills are learned through interaction with others" (Resnick et al., 2015; Vygotsky, 1978). To facilitate meaningful discussions, the authors advocate five practices that teachers can adopt: anticipating, monitoring, selecting, sequencing and connecting. The book not only details these practices but also provides teachers with lesson plans, protocols, monitoring charts, and more. "Voices from the Field" and "Try This!" insets illuminate valuable insight from educators who have employed the practices and pushed students to collaborate on high level cognitive tasks.
Children's Mathematics: Cognitively Guided Instruction
Carpenter, Fennema, Franke, Levi & Empson
The second edition of this popular text by Carpenter et al. provides additional resources for educators, including more than ninety videos that model classroom interactions. As one fourth grade teacher explains in a recent Education Week post: "Telling students how to solve a problem does not allow them to develop as mathematicians." Cognitively Guided Instruction seeks to engage students in mathematical thinking and to share that thinking with others. CGI encourages student-led communities of math apprentices who think, talk about and do math together. Through this collaboration, students can communicate difficulties, revise their thinking, and begin to see themselves as "competent problem solvers." 
Number Talks: Increasing Proficiency through Conversation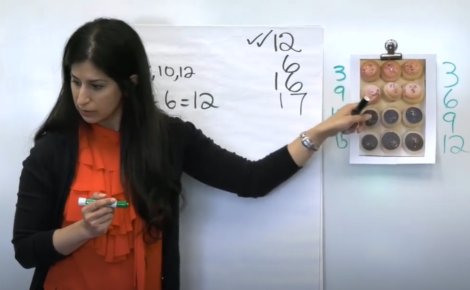 Author Sherry Parrish describes number talks as "classroom conversations around purposefully crafted computation problems that are solved mentally." According to the National Council of Teachers of Mathematics, "Access and equity in mathematics at the school and classroom levels rest on beliefs and practices that empower all students to participate meaningfully in learning mathematics." Fittingly, Parrish's work has provided foundational research behind the recently published MAISA GELN EMTF Essential Instructional Practices in Early Mathematics: Prekindergarten to Grade 3, particularly Essential Practice #6: Engage children regularly in brief (5-10 minute) interactive number-sense routines focused on developing mental strategies for seeing quantity and working flexibly with numbers. Since these conversations promote speaking, listening, critical thinking and computational skills, Wayne RESA Math Consultants will be offering two upcoming sessions on number talks, both of which include a copy of Parrish's Number Talks book. Number Talks: Whole Number Computation will be held on January 30 or March 4 (choose one). For additional information, contact Sherri Zub. Number Talks: Fractions, Decimals and Percentages will be held on February 11. For additional information, contact Cherron Ramsey.
Essential Instructional Practices in Early Mathematics, Pre-K to Grade 3
Earlier this year, the MAISA GELN Early Mathematics Task Force (EMTF) produced the Essential Instructional Practices in Early Mathematics, Pre-K to Grade 3. While the title indicates an emphasis on our youngest mathematicians, Wayne RESA Math Consultants Kristi Hanby and Sherri Zub contend that these eight essential practices are simply "good math instruction." In fact, they encourage educators to read the practices with an eye toward extension capabilities. For example, the word "play" referenced in this document can shift to "explore" for students in later grades. Rooted in five core values, these instructional practices aim to engage students as "doers" and "knowers." Much like the suite of Essential Instructional Practices in Literacy documents, particularly those targeting students in grades 4-12, the Essential Instructional Practices in Early Mathematics seek to center students in their learning experience, aiding them in taking an active and engaged role. Not only will these practices assist in more productive methods of teaching and learning, but they are designed to tap into students' family, cultural and community experiences that ground their understanding of the
value and use of math beyond the classroom. As previously noted, their overlap with the Essential Instructional Practices in Literacy include intentional and productive disciplinary conversations, attention to the flexible grouping of students that elicits the social act of learning, ongoing formative assessment that engages students in the feedback process, and collaboration with families and communities, among others. The alignment of the instructional practices in math and literacy connect to the larger statewide goal of educating the whole child–"a unique learner comprised of interacting dimensions…including home, school, and community." To that end, these instructional practices guide purposeful teaching that has a greater chance of promoting equitable access to educational opportunities for all of our students.
Chief Deputy State Superintendent Sheila Alles explains how and why the Michigan Department of Education will review and revise its strategic plan to provide Michigan students with a premier education.
Upcoming Events at Wayne RESA
Online registration for professional learning is available in Wisdomwhere. All course offerings and their descriptions can be found in the ELA PD Course Offerings 2019-20 brochure.
Elementary
Jan Richardson – Teaching Reading in Small Groups, K-3:  February 25
Join Jan Richardson as she brings her years of experience as a reading specialist, Reading Recovery teacher leader, best-selling author, and national literacy consultant to share best practices in providing small group reading instruction, a critical component of a balanced literacy program. Dr. Richardson will demonstrate how to use student assessment data to plan targeted instruction to meet individual needs, and participants will leave with a wealth of strategies to refine and energize their instructional delivery using precise assessment tools, detailed lesson plans, targeted reading strategies, and guided writing support. Workshop participants will receive Dr. Richardson's popular professional book: The Next Step Forward in Guided Reading. The audience for this workshop includes K-3 classroom teachers, reading specialists, literacy coaches, elementary resource room teachers, and members of the leadership team. For additional information, contact Debra Reeves.
MTSS Supports – Elementary School Scheduling: March 10
The creation of an effective school schedule is a key component of every elementary principal's work.  While many different personnel should be involved in the process, to delegate this responsibility is to abdicate the role of instructional leader. Based upon 40+ years of experience working in schools across the country, Dr. Michael D. Rettig, professor emeritus from James Madison University, founder of School Scheduling Associates, and co-author of Elementary School Scheduling: Enhancing Instruction for Student Achievement (Eye on Education, 2008), will outline problems which have been identified in typical elementary school schedules, relate general principles for effective elementary school scheduling, provide a process for creating quality schedules, and share examples and templates. The intended audience for this course includes superintendents, curriculum directors, elementary principals, members of the leadership team and/or district/school improvement team.
For additional information, contact Colleen Whalen.
Overview of the GELN Essential Instructional Practices in Literacy, Grades K-5: January 9
Have you heard the phrase "minimum standard of care"?  Are you familiar with how this phrase connects with literacy practices in our K-5 classrooms? If you are curious about these questions and how they can impact your teaching, then this session is for you!  Come and learn about the GELN Essential Practices in literacy. In this session, participants will be provided with an overview of the K-3 and 4-5 Literacy Essential Practices.  Participants will spend time learning about motivation and engagement and the critical role these play in all aspects of literacy development as well as the other 9 essential practices.  As each of the 10 essentials is introduced, participants will be given time for reflection and action planning
;
therefore, school literacy teams and/or grade level teams are encouraged to enroll together. This session could serve as a springboard to build ideas for professional learning linked to school improvement. All participants will receive their own printed copy of the GELN Literacy Essentials for Grades K-3 & 4-5. For additional information, contact Bridget Regan.
Reading in the Content Areas, Grades K-5: February 27, April 23, and May 6 
Literacy instruction can and should occur, not just during the K-5 literacy block, but throughout the entire school day, as content area study provides a compelling context for addressing many of the Michigan Standards for English Language Arts. In fact, reading comprehension is supported, in great part, by a reader's background knowledge, academic vocabulary, understanding of text structures, and strategic thinking skills, and all of these reading essentials are significantly enhanced through the study of science and social studies. This three-day workshop series will explore effective instructional strategies and available resources for infusing all components of the literacy block and content instruction with informational text sets and engaging read aloud books, along with learning opportunities to build the strong foundation necessary for students to read, comprehend, and respond to increasingly complex texts across all content areas. Featured in this series will be world-renowned literacy specialist and best-selling author, Stephanie Harvey, who will introduce the researcher's workshop, an inquiry-based instructional practice to create engaging investigations across all content areas and integrate literacy and content through strategies for comprehension and critical thinking. The intended audience for this course includes K-5 classroom teachers, reading specialists, literacy coaches, elementary resource room teachers, and members of the leadership team. For additional information, contact Debra Reeves. 
Storytelling with Digital Media: March 19
Makerspaces encourage teachers to develop interactive opportunities for students as they develop products for a wide range of purposes and audiences. In this workshop, participants will discover ways to inspire active storytellers through digital media t
hat tap into multiple literacies to create meaning. Participants will explore green screens and stop animation, e-book creations, and more. All participants will receive a stop animation starter kit and The Green Screen Maker Space Project Book. The intended audience for this course is K-12 educators. For additional information, contact Laura Gabrion.
Secondary
180 Days – Reimagining Language Arts Instruction: April 20, May 7, June 1 and June 9
In this interactive course, Penny Kittle and Kelly Gallagher will demonstrate how they: (1) plan a year of instruction; (2) design specific units of study; and (3) plan and execute daily lessons. Participants will have an opportunity to reimagine units of study using Gallagher's and Kittle's newest book 180 Days and Michigan's Essential Practices for Disciplinary Literacy Instruction in the Secondary Classroom. Participants will explore ways to deepen student engagement through diverse texts, integrate various compelling reasons for writing for real audiences and authentic purposes, and learn to examine student work as data for making instructional decisions. The intended audience for this course is secondary language arts teachers, instructional coaches, reading specialists, and instructional leaders (6-12 Essential Practices #2, #4, & #8 are the focus of this series). For additional information, contact Rosalyn Shahid.
Academic Conversations – Classroom Talk Leading to Content Understanding: March 12 and March 26
Academic conversations push students to think and learn in lasting ways. Academic conversations are back-and-forth dialogues in which students focus on a topic and explore it by building, challenging, and negotiating relevant ideas. This workshop supports Essential Practices for Disciplinary Literacy Instruction in the Secondary Classroom #10: Metadiscursive awareness within and across academic and cultural domains (attention to language use at the "meta" level, e.g. talking about talk). Participants will receive a copy of Academic Conversations. The intended audience for this course includes grades 5-8 educators. For additional information, contact Rosalyn Shahid.
Building Reading and Writing Connections through Choice in the Secondary ELA Classroom: February 10 and March 9
Whole-class novels? Student choice? In Kate Roberts' A Novel Approach, she provides strategies that blend student-centered with whole-class reading. By exploring this method, participants will learn how to deepen students' critical thinking, academic and content vocabulary acquisition, and writing through the use of Reader's and Writer's Notebook. Participants will also develop conferencing, formative assessment, and small group instruction techniques that will increase students' understanding of the reading and writing connection. The intended audience for this course is secondary ELA teachers. (This series will focus on 6-12 Essential Disciplinary Literacy Practices #2, #3, #4, #5 and #7). For additional information, contact Mary-Lu Strimbel
MTSS Supports – Secondary School Scheduling: March 11
The creation of an effective school schedule is a key component of every school principal's work. While many different personnel should be involved in the process, to delegate this responsibility is to abdicate the role of instructional leader. Based upon 40+ years of experience working in schools across the country, Dr. Michael D. Rettig will focus on middle and high school scheduling possibilities. He will share many different models of scheduling, discuss the pros, cons, costs, and research related to these models, and outline an adoption and implementation process. The intended audience for this course includes superintendents, curriculum directors, secondary principals, members of the leadership team and/or district/school improvement team. For additional information, contact Colleen Whalen.
PSAT/SAT Instructional Shifts: February 5
This course is designed to provide participants with key information and instructional shifts for the PSAT 8/9.  The PSAT replaces the M-STEP English Language Arts (ELA) and Mathematics assessments. Participants will understand the PSAT 8/9 test structure, review sample items, and identify the instructional shifts necessary to best support students on this assessment. The intended audience for this course is 8th grade Math and ELA teachers, Middle School Testing Coordinators and Instructional Leaders. For additional information, contact Rosalyn Shahid.
Coaching
Wayne County Coaching Foundations: March 2 (face-to-face date is followed by six online sessions)
Designed as a boot-camp for new and prospective coaches, this series examines key components of coaching. Join us as we
explore what literacy coaching is and how it can lead to systemic improvement within a school or district. In this foundational course, we delve into the skills necessary to be an effective literacy coach, including nurturing a growth mindset, developing relational trust, active listening, meaningful use of data, and providing effective feedback. Discover how the Essential Coaching Practices for Elementary Literacy connect with the other components of the Essential Practices in Early and Elementary Literacy and learn how to integrate these core elements into successful practice. The intended audience for this course is new or aspiring literacy coaches. For additional information, contact Michelle Wagner.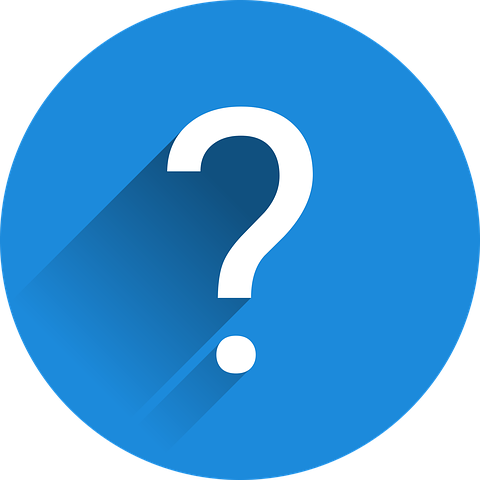 Resources: Where can I find...
While this site is not regularly updated, Get the Math shows students how math works in the real world from the perspectives of a variety of vocational experts, such as musicians, chefs, and more. Lesson plans and activities are also available.
Math Playground provides users with countless math games to stimulate learning. Click on the Story Math tab to find word problem practice with subjects such as Santa's elves, shopping sprees, or the Boston Marathon.
The Math and Literature series by Marilyn Burns supplies teachers with classroom-tested lesson plans to accompany popular children's books appropriate for grade levels K-6.
Bridget Regan is a Literacy Consultant for Wayne County RESA and serves as an Adjunct Professor of Literacy at Madonna University.  Bridget has been in education for 24 years and is passionate about preparing educators as they strive to become exceptional while utilizing research-based instructional practices every day in their classrooms. Bridget has served in many roles in her career including:  4th & 8th Grade Teacher, Reading Recovery Teacher & Learning Specialist, Literacy Facilitator, Elementary Principal, and more recently as a Literacy Consultant at the county level.  Bridget holds a Bachelor of Science in Elementary Education and a Master of Arts in Literacy Education from Eastern Michigan University, an Education Specialist in Educational Leadership from Oakland University, and is currently working towards a Doctoral Degree in Educational Leadership at Madonna University. Bridget believes that teachers are leaders and that they can be the change we wish to see in the world.
If this newsletter has been forwarded to you, and you'd like to subscribe to it, please contact Laura Gabrion
33500 Van Born Road • Wayne, MI 48184 • 734.334.1300 • 734.334.1620 fax • www.resa.net
Board of Education
James S. Beri • Mary E. Blackmon • Danielle Funderburg • Lynda S. Jackson • James Petrie
Randy A. Liepa, Ph.D., Superintendent